1st Impressions Truck Lettering, Vehicle Wraps
Fleet graphics is not a job for amateurs. It demands a well-organized team of experts – experienced people who know how to handle any issue that may arise. At 1st Impressions Truck Lettering, we deliver clean and consistent color, size, and finish. We understand the need to maintain the consistency and integrity of your brand. We do the whole job, from start to finish.As a fleet manager, you are responsible for ensuring your vehicles are operational and on the road! Whether it's 5 vehicles or 500, 1st Impressions Truck Lettering will get your job done efficiently and professionally.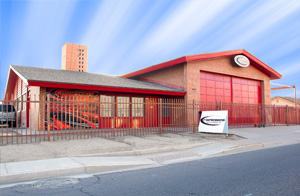 The American Trucking Association's study;
The visual Impact of Trucks in Traffic, showed:
96% noticed truck side ads
98% said fleet graphics created a positive image for the company
96% said fleet graphics had more impact than billboards
75% of people developed an impression about a company and its products
29% would base a buyig decision on the impression
Entrusting 1st Impressions as your partner, you are able to keep your downtime to a minimum because we give precedence to our fleet customers, while offering you total peace of mind knowing the job will be done to your brand specifications and that it will be done right. Did you know? Vehicle advertising generates between 30,000 – 70,000 daily vehicular impressions. Offer your customers some curb appeal! 1st Impressions Truck Lettering wants you to partner with your dalership by presenting you with an offer for your customers. If they purchase a fleet vehicle from you, we will give them a $300 rebate good toward turning their new investment into an even bigger one!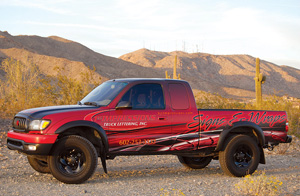 Your customer can use fleet graphics to:
Extend the reach of their advertising campaigns
Reach an inherently engaged and alert audience
Reinforce brand attitudes and messages
Increase their company's value in the marketplace