Allstate Transmission Repair

Do you know the next service date
for all of your fleet vehicles?
If your vehicles are serviced by
Allstate Transmission & Auto Repair, then we do.
Allstate Transmission & Auto Repair has been leading The Valley in transmission & auto repair for over 22 years.
We are more than a vendor, we are your fleet maintenance business partner – a privilage and responsibility we take very seriously.
We take the time to understand your business, your fleet, and your goals to develop a fleet program specific to your needs.
Allstate Transmission and Auto Repair is a Certified NAPA Auto Care Center. Our Automotive Service Department is dedicated to all aspects of auto repair, from preventative maintenance, to a completely remanufactured engine installation.
We take the stress out of your fleet maintenance.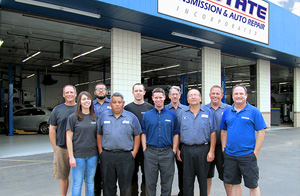 The Best Shop for Transmission Repair in Phoenix AZ
Fleet maintenance experts
Complete automotive repair
ASE Certified Technicians
2 year nationwide parts & labor warranty on any NAPA part we install
Free pick up & delivery
Your own fleet website
Email alerts when maintenance is scheduled or due
Allstate Transimssion & Auto Repair offers first-rate service along with a proven Fleet Management Program that ensures your equipment operates optimally.
Reduce downtime with our preventitive and predictive maintenance programs
Increase vehicle lifecycles with stringent standards that ensure all preventetive maintenance and repairs are completed
Improve equipment reliability with warranted repairs performed by highly skilled technicians using the latest in diagnostic equipment.
Provide 24/7 access to our Fleet Maintenance Information System
With Allstate Transmission & Auto Repair, you'll spend less time focusing on your fleet maintenance, freeing you to concentrate your time and resources on your customers.