All Pro Truck Body Shop, Your Fleet Body Shop

Professional service for your commercial vehicles
in need of body repair or paint.
We get the job done from beginning to end.
Does your fleet need new fleet painting or truck painting? Possibly an truck accident or a desired color change, All Pro Truck Body Shop will satisfy your truck auto body and truck painting needs. Let All Pro Truck Body Shop be your one stop fleet painting center.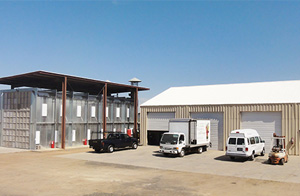 Our service include but are not limited to:
Fair prices
Quality Body and Paint Work
Truck Lettering and Wraps
Quick and Reliable Service
Specializing in Box Trucks (Morgan, Supreme, others) and RVs
Rollup door repair and installation
Preferred outsourced solution for other repair facilities in the area
Accident claims – we work with all insurance companies
Paint Match Guarantees
With over 45 years of experience in medium and heavy truck repairs, our staff is ready to provide you with safe, accurate and timely truck body and  truck paint repairs. Our central location is conveniently located and we provide mobile estimates.
Our amazing staff is trained and certified in industry standard hardware and software. We can take the job of working on your truck, large vehicle, equipment, or fleet of vehicles with confidence that we have the equipment and training to get the job done right the first time.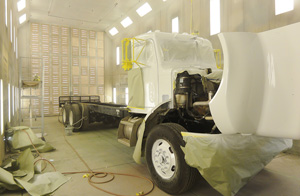 Equipment and Certification:
60′ Truck Paint Booth
Car-O-Tronic Frame Measuring System
Gold Medallion and Chief EZ Liner Semi Truck Rack
Sign/Vinyl Production Station
Vehicle Wrap Production
I-CAR Platinum and Core Training
ASE Certification
3M Certified
More…